Islands in Malaysia
It would be an impossible task to describe every one of Malaysia's thousands of beautiful beaches. Ranging from the powdery stretches of sand that characterize the eastern coastline of Peninsular Malaysia to the black sand beach of Pantai Pasir Hitam and the smooth pebble beach of Pantai Batu Kerikil, Malaysia's shores offer more idyllic locales than one could explore in many lifetimes. In addition to the plenitude of beaches along the the peninsula and the coast of Eastern Malaysia, the country also possesses over a hundred tropical islands. Many of these are so beautiful as to have entered into legend centuries ago, like the islands of Langkawi remain desert isles, marked , or Pulau Tioman. Others only by the imprint of the South China Sea on their sands.
Despite such abundance and variety, Malaysia's beaches are noticeably different from those in other parts of the world. They are often less differentiated from the shoreline than those of the Caribbean, for example, tending instead to be almost nestled up against the lush forests that this nation is famous for. The color palette is different as well--golden sands and emerald waters imbue Malaysian beaches with an air of succulent sweetness that isn't found in the cool whites and blues of many western strands. The result is that these beaches impart a very different sensation, a sense of languid peace and a distinct feeling that the division between land and sea is less a sharp line than a smooth continuum.
This continuity is noticeable in Malay culture as well. Kelongs, the traditional villages of coastal Malaysia, are built out over the water on stilts, reversing the usual notion of a beach view. Exploring the waters of Malaysia can produce a similar sense that the sea rather than the land is dominant here--cruising among the islands of Langkawi or those off Johor, for example, or scuba diving and snorkeling among the country's many world-class reefs.
_____________________________________________________________
Visiting the Malaysia islands on the west coast is best done on your way or coming from Kuala Lumpur. Malaysia has two seasons, a dry and a wet season. The rainy season in West Malaysia is from November to February but funny enough this is the main Malaysia holiday season. It is not raining the whole day in this time of the year. In fact, most of the time it's dry but you can expect showers.
Island in West coast
-Langkawi
-Pangkor
Islands in East coast
In East coast the best way or coming is from Kuala Lumpur and Singapore.And then take another plane or bus to visit a east coast island.Also east coast have many place islands to visit and enjoy
-Perhentian
-Redang
-Lang Tengah
-Gemia
-Tenggol
-Kapas
-Tioman
-Rawa
-Pemanggil
-Aur
-Besar
-Tinggi
-Sibu
East-Malaysia coast
_______________________________________________________________
Another place of islands in Malaysia was in East-Malaysia.There also must take a plane from Kuala Lumpur to get there.In Sipadan island they have learning centre of scuba or PADI
Islands in East-Malaysia
Tiga
Layang-Layang
Sipadan
Langkawi
_______________________________________________________________
About Langkawi
Langkawi comprises a group of 99 tropical islands lying off the north-western coast of Peninsular Malaysia, about 30 km from Kuala Perlis and 51 km from Kuala Kedah on the mainland. The main island is popularly known as Pulau Langkawi. The islands are blessed with an intriguing heritage of fabulous myths and legends of ogres and gigantic birds, warriors and fairy princesses, battles and romance. As a natural paradise, the islands are perhaps unmatched anywhere else in Southeast Asia.
With a geological history dating back 500 million odd years, the islands contain unique rock formations that stir the imagination and baffle the mind. Numerous caves with their stunning stalactites and stalagmites, taunt theadventurous to unravel their ancient secrets.
Fine beaches offer sun-filled days of complete relaxation. The clear emerald waters around the islands provide numerous opportunities for a host of water sports and recreational activities. The enchanting marine life beneath the waters of Langkawi's islands also beckon diving enthusiasts
Things to do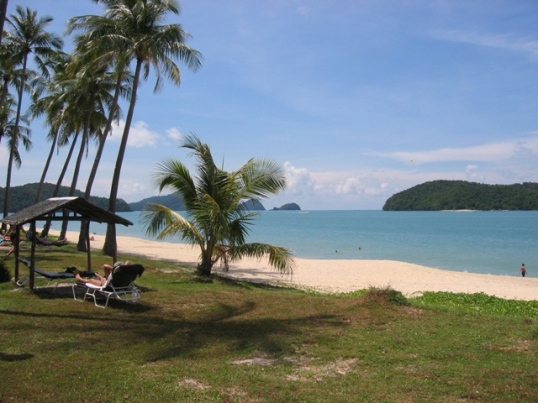 Beaches-Langkawi's beaches are simply some of Malaysia's best.From the sandy bays to the sweeping coastlines,the island's beaches are reowned among locals,beach-bummers and revellers from across the world.Here are some of the popular ones.
Diving-A number of diving operators can be found either located within a hotel or at dive centres around Pulau Langkawi. Most diving is done around Pulau Payar Marine Park Group of islands.
Sailing-Langkawi is a great place to start a sailing holiday as the waters of the Andaman Sea are superb, the sailing infrastructure is excellent and it is a resort island with abundant attractions.
Sightseeing-Dataran Lang or Eagle Square, which has a magnificent 18m-high marble eagle as a centerpiece.In the same area is an amphitheater for regular cultural performances that portray the various legends of the island.And Langkawi cable car ride takes visitors to Langkawi's second highest peak of Mount Mat Cincang where the view of the surrounding islands is spectacular. On clear days, visitors can also see parts of Thailand towards the north and Indonesia towards the south-west.
-Bahan-bahan di petik drpd; squidoo
rujukan boleh dibuat di http://www.squidoo.com